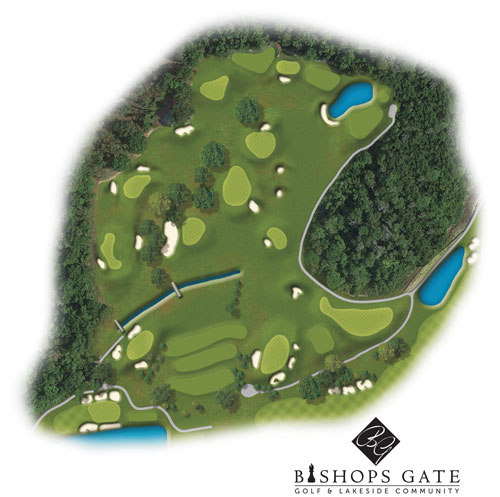 The practice facility has been designed with eight different stations, four of which are tee areas, all distinct from each other, and designed to give groups of golfers a private experience on the range. In total, 50,000 sq. of tee space. There are also multiple target greens to aim at, from these different tee areas, with a beautiful line of oak trees bisecting the range, giving the impression of practicing on a golf course, with options to shape the ball around the trees. The range fairway is also maintained to emulate a golf course, with rough and fairways, giving the golfer the opportunity to hit from any fairway into the target greens, or designated USGA-standard chipping greens.
The other four stations are USGA-standard putting and chipping greens, again in different areas, to allow groups of golfers a private experience. In total 30,000 sq. of putting and chipping greens, and 15,000 sq. of practice bunkers around these greens. As described above, golfers will be able to practice from the range fairways or rough, and hit balls into two of these greens, one of which has a water feature in addition to the bunkers to add extra challenge.
A wonderful arena in which to work on your golf game, comfortably able to accommodate over 60 golfers at any one time, without feeling crowded. Truly a unique environment, and with greens and tee boxes maintained to the highest quality, an enjoyable and productive experience.