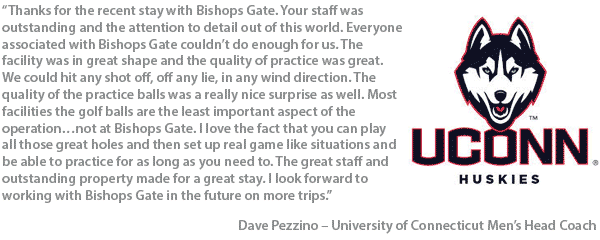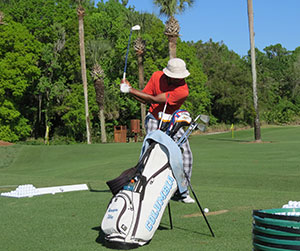 Bishops Gate offers first-class training facilities for any collegiate golf team looking to build camaraderie, schedule a trip during break or prepare for an event. With 50,000 sq. ft. of tee space, 30,000 sq. ft. of USGA-standard greens and 11 training holes, Bishops Gate is the ideal training facility for teams.
Housing: At Bishops Gate, we understand that a large part of your team's visit has to do with providing an atmosphere that promotes camaraderie. Our luxury townhomes are set up in such a way that your team will not only stay together under one roof, but also enjoy team meals and other bonding activities. Each townhome features a living room, dining room, fully appointed kitchen and laundry room. These will be configured for 2 persons per room, and are fully furnished and equipped, including linens and towels. In most cases, our homes have an enclosed patio for relaxation. All units have Wi-Fi and DirecTV.

Catering: Bishops Gate utilizes an in-house catering service headed by Executive Chef Bill Redding. Chef Redding is an accomplished Executive Chef with over 20 years of experience in restaurants all over the country. Chef Redding is a Certified Food Safety Manager. He also holds a certification in Sports Nutrition and Performance.
The team will be provided with 3 meals per day, on an "all-you-can-eat" basis, with a salad bar and a variety of drinks available at lunch and dinner. All your team's meals are served in Champions Hall. Over-looking Little Lake Harris, Champions Hall is the perfect setting for your team to relax and socialize.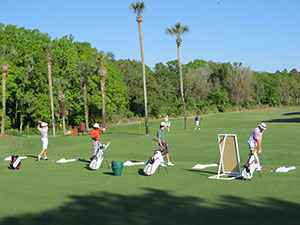 Golf: The team may train on the Bishops Gate practice facility throughout the day. The facility has 50,000 sq. ft. of tee space, 15,000 sq. ft. of chipping greens and 15,000 sq. ft. of putting greens, all prepared and maintained to USGA standard. Practice balls are Titleist NXT Tour and are provided to all users. Team members will have a dedicated practice facility tee area each morning.
Additionally, the golf course will be available each afternoon. This will be at a rotation of Mission Inn Resort, Bella Collina Golf Club and Bishops Gate Golf Club. A total of four 18-hole rounds at either Bella Collina or one of Mission Inn's courses for each player is included, along with unlimited weekend play at the Bishops Gate golf course.
On-Site Activities
The Bishops Gate property not only provides a place for your team to prepare for the season or a tournament, but it also offers numerous activities for downtime. Whether your team would like to sit lakeside by the pool, play some tennis or basketball, or get a workout in our gym under the green dome, Bishops Gate has it all.
For more information, please contact Andres Vera at andresv@bgga.com.